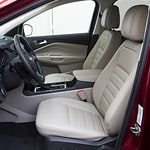 The 2020 Ford Escape is a vehicle that makes it a lot easier for everyone to drive. You can reduce your chances of being involved in a car accident by using pre-collision assist with automatic emergency braking. It has sensors that can tell you if there is a pedestrian or another vehicle in front of you.
If you do not press the brakes, then the system will automatically do it for you. The Ford Escape also comes with Waze Technology. This technology will give you alerts about road hazards, traffic jams, and accidents. You do not have to take your hands off of the wheel to operate this feature.
Additionally, the Ford Escape has Ford+Alexa. You will have access to things like Amazon Prime, voice navigation, and traffic information. You will also be able to control your smart home devices and use your Google, Microsoft, or Apple calendars. It is voice-activated and hands-free.