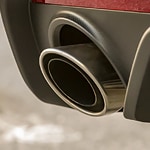 The new Ford Mustang upholds this model's longstanding reputation for being one of the premier sports cars ever made. Its newest performance features lend to this car's appeal to buyers today.
The new Mustang from Ford, for example, comes with an innovative seven-speed clutch. This clutch guarantees that the Mustang can reach optimal speeds without choking or stalling. You can get expect no less than top performance out of your Mustang thanks to its innovative new clutch design.
The newest Mustang also comes with a 2.3-liter EcoBoost engine. This engine burns fuel cleaner and lends maximum horsepower and torque. It works together with the clutch to ensure that you can go from zero to 60 miles per hour in a matter of seconds.
Finally, find a user-friendly, newly redesigned turbo-powered gear shift in the new Ford Mustang. You can shift from one gear to the next with a quick lever pull.