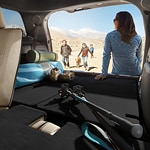 The 2020 Ford Explorer can seat up to seven people. It is also great for hauling things because it can tow up to 5,600 pounds. Additionally, it can get a maximum of 29 MPG on the highway and 27 in the city.
The capability features will make your drive a lot easier. This vehicle has rear-wheel drive. This feature will make it easier for you to drive on and off the road. Rear-wheel drive also makes it easier for you to tow things. This vehicle also has towing and sway control.
It will adjust the engine and brakes in order to help you tow. It has the ability to maintain control even when you are towing a large load. Additionally, this vehicle also has a 2.3L EcoBoost engine. You can visit our dealership if you would like to take the 2020 Ford Explorer for a test drive before you buy it.