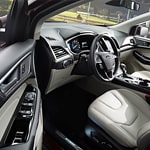 When a customer comes to see us at Teague Ford and asks for a car that has a bold style, we are happy to recommend the Ford Edge. Driving a Ford Edge will turn heads anxious to see the sleek profile and aerodynamic exterior design.
Although many aspects of the Ford Edge are striking, customers in El Dorado, AR particularly enjoy the standard 20-inch black-painted gloss aluminum on the wheels. As the car approaches, the striking grille makes an impressive sight.
The exterior design of the Ford Edge also features LED lamps. Customers can choose to include a 180-degree camera system to enhance both the safety and design of the vehicle.
The interior design is just as impressive. Metallic pedals and red stitching on the steering wheel are the kinds of details that make the Ford Edge design unique.