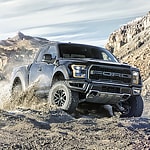 Generally, any vehicle should offer security to the owner as well as to itself. Ford F-150 Raptor comes with a rearview camera with a dynamic hitch assist in helping when reversing. Airbags in the front, driver, and passenger seats offer protection in accidents. Airbags are also mounted sideways, and even on the canopy. The active restraint system (ARS), three-point manual lap-shoulder belts with height adjusters offer safety.
Ford F-150 Raptor alerts you of blind spots through the Blind Spot Information (BLIS). Meanwhile, the perimeter anti-theft system and remote keyless entry system protect your car when you are not around it.
Tire pressure is paramount for effective and seamless driving of Ford F-150 Raptor, and that is why the tire pressure monitoring system (TPMS) keeps tire pressure in check. You need not worry about your spare wheel being stolen in El Dorado, AR because the spare tire and wheel lock get you covered. When going on a curve, the curve control technology slows down your car when going too fast. In truth, we at Teague Ford are very excited about this car.