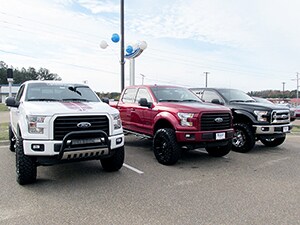 Is the stock F-150 not bold enough for you? Check out our custom trucks exclusively from Teague Customs. We customize our Ford F-150s with Rough Country® lift kits, more aggressive tires, striking custom graphics and other accessories. If you want a truck that is customized right here at Teague Ford  before you even drive off the lot, Teague Customs is the way to go!
Each truck is designed locally by people that have years of experience working with Ford pickups and vehicle custo
mizations. If you're looking for a sweet looking custom F-150 in South Arkansas or North Louisiana, Teague Ford Lincoln and Teague Customs is the place to go.
Below are the Teague Customs trucks that we have that we've done in the past! Contact us online by filling out the form below, by phone at 866-956-5240, or just come on into the store. We'll be happy to work with you to get you the jacked up, decked out truck you need!